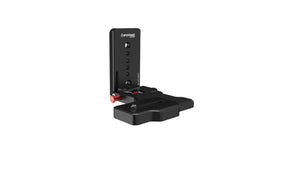 L-shape Slider Plate - LP-01
Changing Creative Horizons
LP-01
This innovative product is designed as an easy to use, quick release L-shaped camera plate. It comes with both 1/4" and 3/8" thread options and can be directly installed on to the Shark Slider Nano.
BUY NOW
Compact, lightweight and portable
Designed as an easy to use, quick release, L-shaped camera plate, the LP-01 comes with both 1/4" and 3/8" thread options and can be directly attached to the Shark Slider Nano. It's the perfect tool for creating sensational vertical camera movement on the slider and in this position it also provides camera tilt control and movement.
Balance and flexibility
The L-shaped camera plate offers a range of different attachment screw size threads and positions across the plate. By balancing the camera at its true centre of gravity and selecting the appropriate positioning on the plate to attach to the slider carriage, the user is able to ensure optimum performance from the camera set up.
M30 compatibility
The LP-01 is further enhanced through the additional use of the M30 Ball Head quick release plate which can be used as a rapid and reliable system for attaching the LP plate to the Shark Slider Nano in next to no time at all, ramping up workflows and saving on both time and frustration.
Extending your creativity
Take your remote camera movement to the next level by combining the LP-01 with the Shark Slider Nano. Create super smooth vertical slides and terrific camera tilts simply by attaching this innovative tool to your slider. Valuable addition for studio creatives, product videos and social content providers.
But there's more. Create panoramic recordings like never before, using the LP-01 in combination with the Shark Slider Nano. Take total high precision control of your panoramic shooting and time-lapses using the innovative Nano IPS touchscreen or smartphone app control.
Simply push to unfold and lock the LP plate, then push again and fold back to auto lock it safely and securely. The LP-01 weighs just 190g, takes a payload of up to 1.8kg and automatically folds safely so it can be easily stored in your kitbag or pocket.
Details and Specifications
Dimension
115x92x100mm
Folded Size
105x100x22mm
Weight
190g
Material
Aluminum Alloy
FLYWHEEL
The flywheel adds a damping effect to your slides, ensuring smooth acceleration/deceleration as opposed to jerky starts and stops. It achieves this through its centrifugal force while the slider belt is connected to it.
VERSATILE
Highly versatile The iFootage Shark slider can be deployed from the storage bag in only a few short moments and could save you precious seconds when needing to film.
WHAT YOU GET:
Materials: Carbon Fiber and anodised aluminium (SUS304)
Weight: 3.4kg
Tube diametre: 22mm
Max length: 790mm
Effective length: 640mm
Max load: 7kg
TECH SPEC:
Materials: Carbon Fiber and anodised aluminium (SUS304)
Weight: 3.4kg
Tube diametre: 22mm
Max length: 790mm
Effective length: 640mm
Max load: 7kg
PRODUCT FEATURES:
Lightweight, compact and portable
Modular design - extends up to 1800mm
Fast and easy tool less deployment
High quality engineering and materials
Belt and original flywheel combination ensures totally smooth camera movement
Suitable for all locations and weather conditions