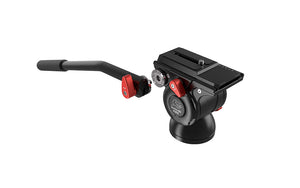 Small form factor, Big impact
Komodo - K5S Tripod Head
Brand new Komodo K5S tripod head comes with improved hardware design,
bringing the silky smooth, stable and accurate operation experience.
Super Smooth
Professional fluid friction adjustment, silky smooth operation
INCREDIBLY COMPACT
Small form factor, high payload, light weight, portable camera head for tripods and monopods. The perfect solution for weddings, events and live streaming.
Weight only
820g
Max. Loading
5Kg
Counter balance payload
2.4Kg
SMOOTH OPERATOR
Professional damping adjustment.
BRAND NEW DESIGN
Improved fluid head design improves stability and accuracy of movement
ELEVATE YOUR CAMERA MOVEMENT
Enhanced ergonomic control
INNOVATIVE
QUICK RELEASE PLATE
Intelligent design, quick release plate, creates space for a larger lens (Sony lens with Mirrorless body) Compatible with DJI gimbals and Manfrotto quick release system.
WHATEVER YOUR ANGLE!
K5S quickly and easily switches between portrait and landscape - ideal for Instagram and Tiktok content creation.
Komodo K5S tripod head provides professional counter balance enabling accurate and precise camera movement and ensuring that you never miss a shot.
PART OF THE IFOOTAGE FAMILY
Komodo K5S works with all iFootage camera support equipment as an integral part of our creative eco system
SPECIFICATIONS
NET WEIGHT
820g
BASE DIAMETER
65mm
HEIGHT
106mm
MAX. LOADING
5 kg
BASE TYPE
Flat
ROTATION DEGREE
360°
QUICK RELEASE TYPE
Slide in
TILTING ANGLE
-83° ~ +90°
PLATE SCREW
UNC 1/4-20
BASE MOUNT
UNC 3/8-16
WORKING TEMP.
-15°C - 60°C
FLYWHEEL
The flywheel adds a damping effect to your slides, ensuring smooth acceleration/deceleration as opposed to jerky starts and stops. It achieves this through its centrifugal force while the slider belt is connected to it.
VERSATILE
Highly versatile The iFootage Shark slider can be deployed from the storage bag in only a few short moments and could save you precious seconds when needing to film.
WHAT YOU GET:
Materials: Carbon Fiber and anodised aluminium (SUS304)
Weight: 3.4kg
Tube diametre: 22mm
Max length: 790mm
Effective length: 640mm
Max load: 7kg
TECH SPEC:
Materials: Carbon Fiber and anodised aluminium (SUS304)
Weight: 3.4kg
Tube diametre: 22mm
Max length: 790mm
Effective length: 640mm
Max load: 7kg
PRODUCT FEATURES:
Lightweight, compact and portable
Modular design - extends up to 1800mm
Fast and easy tool less deployment
High quality engineering and materials
Belt and original flywheel combination ensures totally smooth camera movement
Suitable for all locations and weather conditions