Mini and Standard Bowens Fresnel
Details, Precision, Clear Focus
High Quality Optics, 10x Brighter
Fitted with top-tier optical lenses, these not only deliver a more polished spotlight effect but also unlock greater brightness from the lamp. This results in an impressive 10-fold increase in illuminance.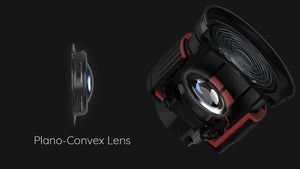 Plano-Convex Lens inside
Dual lens configuration. Converging light before reaching the Fresnel lens, enhancing focus and boosting brightness output.
Optimized Directional Precision
Fresnel lenses, featuring a precise concentric groove design, excel in collimating point sources efficiently, making them an ideal choice for iFootage Anglerfish lights.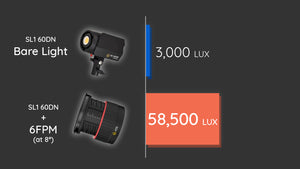 19.5x Brightness increase (6FPM)
At the zoomed-in settings of 6FPM on an SL1 60DN, brightness surged from 3000LUX to an impressive 58500LUX, a 19.5 fold boost!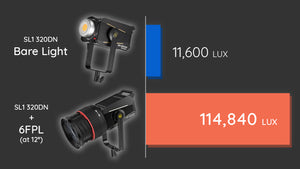 9.9x brightness increase (6FPL)
At the zoomed-in settings of 6FPL on an SL1 320DN, brightness surged from 11,600LUX to a whopping 114,840LUX, a 9.9-fold boost!
Adjusting the Angle of Light Beam
Our threaded, rotating, and telescopic design facilitates effortless angle adjustment, ranging from 2° to 40° (6FPL) or 8° to 35° (6FPM) with a single turn of the zoom ring.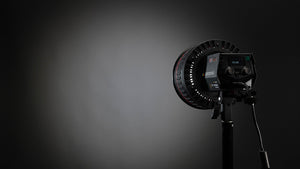 Zoomed-out Result
Covering a larger area while still increasing brightness by around five times compared to a bare bulb.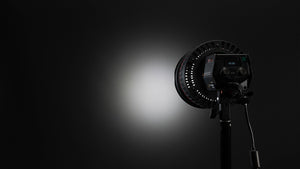 Zoomed-out Result
A tightly focused beam to produce a spotlight effect for dramatic illumination.
Optimized Focal Length Adjustment
With smooth adjustments and easy, one-handed operation, our Fresnel series puts you in complete control.
Precision Lens Adjustment
A generous diameter and rotational range offer precise control over the lens movement.
Textured Rubber Grip
Textured Rubber Grip for Effortless, One-Handed Adjustment
Light Control Attachments
Looking for more control over light size? Attach a barndoor and grid at the front, just as you would with a reflector cup.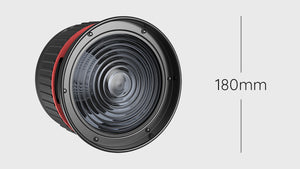 180mm Front Diameter
At the front, a 180mm circular interface, matching the barndoor's diameter, enables the use of the same four-leaf barndoors for exact light control.
Grid with Barndoor
A grid can be combined with the barndoor to further limit light diffusion while preserving a seamless transition.
Zoomed out with Grid
Achieving Uniform, Soft-Focused Lighting with Smooth Transitions in Zoomed-Out Setting.
Zoomed in with Grid
In zoomed-in setting, achieve sharper focus and smooth light transition from center to edges for even illumination.
Mini and Standard Bowens Fresnel
Standard and Mini Bowens
In addition to the standard Bowen mount (6FPL), we offer a model compatible with the mini Bowen mount (6FPM), utilized in portable lights such as SL1 60DN.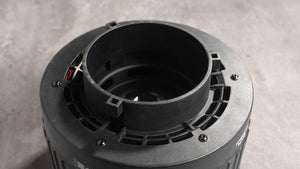 Standard Bowens mount
The 6FPL version is tailored to seamlessly fit with our Anglerfish standard Bowen lights, ensuring stability and reliability.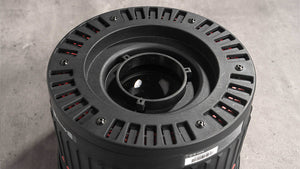 Mini Bowens Mount
The 6FPM version is designed to be compatible with lights of smaller form factors, such as the SL1 60DN, 130DN and 130BNA.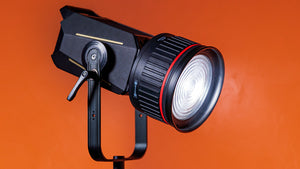 6FPL with SL1 320DN
The 6FPL is compatible with SL1 200/220/320 DNA series lights.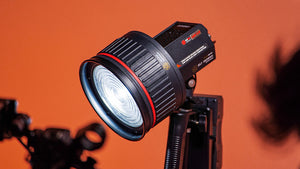 6FPM with SL1 130BNA
The 6FPM is compatible with SL1 60/130 DNA series and 60/130 BNA lights.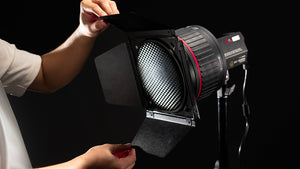 Barndoor compatibility
Although they have different mount sizes, both the 6FPL and 6FPM are compatible with the standard 180mm barndoor and grid.
Beam Angle
Size
Weight
Mount Type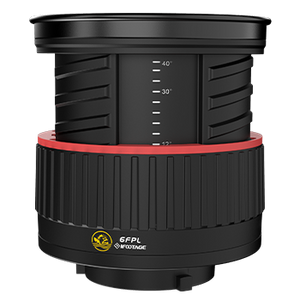 6FPL-Six inch standard Bowens mount fresnel
12° - 40°
⌀181 x 135.3mm
1280g
Standard Bowens Mount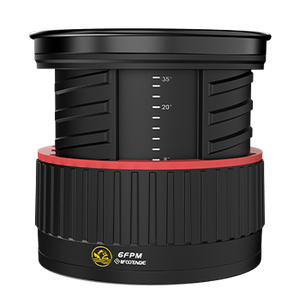 6FPM-Six inch mini Bowens mount fresnel
8° - 35°
⌀181 x 111.3mm
1240g
Mini Bowens Mount