3INT-MB 15-50° Intensifier
Amplify Your Cinematic Vision
The 15x Power Upgrade
Boosting luminance by up to 15 times, transforming the portable 60/130 DN and BNA models into an exceptionally powerful lighting solution.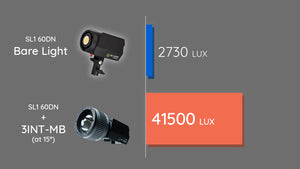 15 times brighter!
When zoomed in, 3int can increase the brightness of a SL1 60DNA by 15.2 time!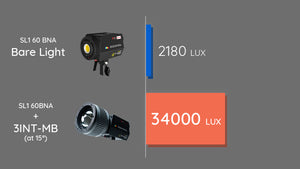 15.6x brighter!
When zoomed in, 3int can increase the brightness of a SL1 60BNA by 15.6 time!
Flexible Angle Control
Versatile angle control from 15 to 50 degrees provides an evenly lit spotlight effect, opening up endless creative possibilities.
Precision Lens Adjustment
A generous diameter and rotational range offer precise control over the lens movement.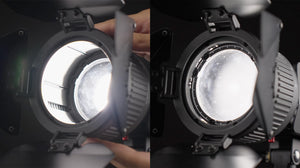 Constant Size Zoom
Internal movement of the premium convex lens maintains constant light body size during zoom, ensuring lens protection.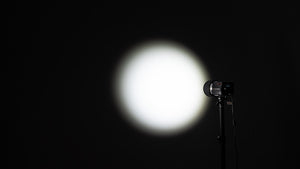 Zoomed-out Result
Offering substantial coverage while amplifying brightness by 2.5 times.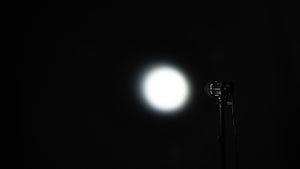 Spotlight Effect
Fully zoomed for a laser-focused beam, yielding a staggering 15-fold increase in brightness.
Lightweight and Easily Portable
At only 500g and 114mm in diameter, it effortlessly fits into your bag alongside the portable SL1 60/130s.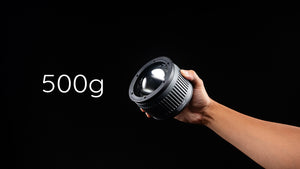 Weight only 500g
The easily portable intensifier proves to be an invaluable companion to our 60/130W portable lights.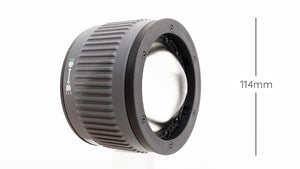 Small Form Factor
Measuring just 114mm in diameter and 86.5mm in length, it effortlessly slips into any bag.
Design for Mini Bowens mount
Tailored for the portable mini Bowen mount, this design achieves a seamless blend of compact form and optimal functionality.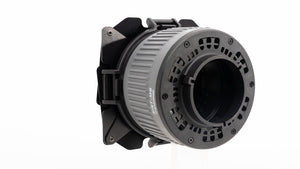 Robust Mini Bowen Compatibility
Crafted with a robust casing, this design ensures durability and a snug fit with all mini Bowen mounts.
Portable SL1 Enhancement Solution
Compact, Ideal for Enhancing Portable SL1 60/130 DNA and BNA Series.
Compact Barndoor Included
The included compact barndoor enhances control, allowing for precise light shaping. This versatile accessory is invaluable for achieving specific lighting effects, making it an essential tool for photographers and videographers alike.
Compact Intensifier
Purpose-built for this compact intensifier, enhancing both its functionality and aesthetics, adding significant value to your 60/130DNA or BNA lights.
Adjustable Light Control Flaps
Featuring adjustable flaps with movable wings, this design provides additional control over light shape and size, allowing for even more precise customization of your lighting setup.
Precision Control
Collapsing wings enables adjacent flaps to tightly confine light, offering enhanced control over illumination. This adaptable feature allows for finer adjustments, ensuring tailored and professional lighting setups.
Beam Angle
Size
Intensifier Weight
Barn Doors Weight
Mount Type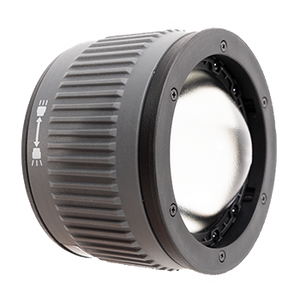 3.2" Mini Bowens 15-50° Intensifier
15° - 50°
⌀114 x 86.5mm
0.5kg
0.2kg
Mini Bowens
3INT-MB 15-50° Intensifier