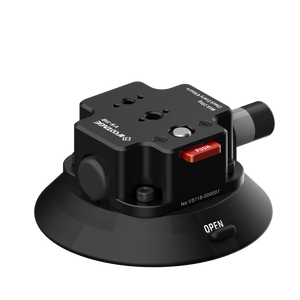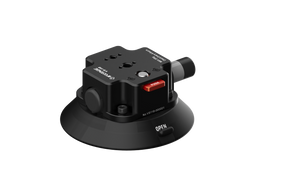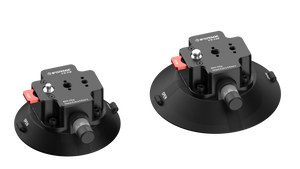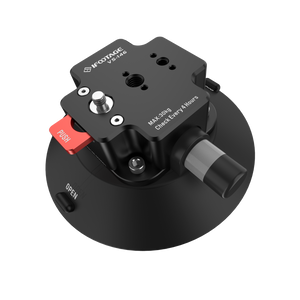 iFootage Spider Crab Vehicle Suction Cup
1.Vertical payload: VS-146≤30KG,VS-118≤20KG.

2.The suction cup can be attached to any smooth or convex surface which will allow it to form an air tight inner seal as a result of the interior air being removed and forming a vacuum.ldeal for attaching magic arms, support rods and φ75mm bowl mount.
3.Once attached to a smooth or convex surface, such as glass, the suction cup
can remain in place for up to 12 hours without loosing its vacuum seal. It isadvisable, however, to check the cup and seal every 4 hours of attachmentand use.

4.The suction cup is ideal for attaching and supporting most cameras, camera heads and accessories with an appropriate screw thread.
5.The suction cup is designed to work with 3/8" and 1/4" threads and comes with a built in 3/8" and 1/4" converter screw.
FLYWHEEL
The flywheel adds a damping effect to your slides, ensuring smooth acceleration/deceleration as opposed to jerky starts and stops. It achieves this through its centrifugal force while the slider belt is connected to it.
VERSATILE
Highly versatile The iFootage Shark slider can be deployed from the storage bag in only a few short moments and could save you precious seconds when needing to film.
WHAT YOU GET:
Materials: Carbon Fiber and anodised aluminium (SUS304)
Weight: 3.4kg
Tube diametre: 22mm
Max length: 790mm
Effective length: 640mm
Max load: 7kg
TECH SPEC:
Materials: Carbon Fiber and anodised aluminium (SUS304)
Weight: 3.4kg
Tube diametre: 22mm
Max length: 790mm
Effective length: 640mm
Max load: 7kg
PRODUCT FEATURES:
Lightweight, compact and portable
Modular design - extends up to 1800mm
Fast and easy tool less deployment
High quality engineering and materials
Belt and original flywheel combination ensures totally smooth camera movement
Suitable for all locations and weather conditions