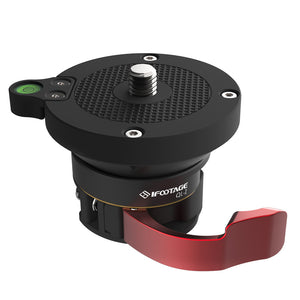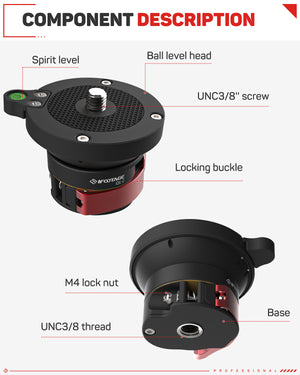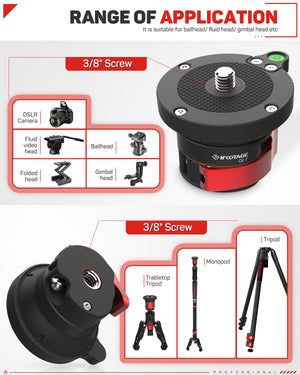 iFootage Quick Leveller QL-I
IFOOTAGE Quick Leveller QL-I is designed for making precise tripod camera balance. It can swivel to 15° in any direction. The built-in bubble level offers precise balancing reference. Comes with 3/8" screw to 3/8" thread.

Features:
All-metal material, CNC precision machining, surface anode anti-oxidation treatment.

The Leveling Head is practically maintenance­ free and it can be moved very easily.

The Leveling aid is ideal as a base for 3D cameras and for modern gimbals tripod heads.

It is indispensable for Leveling on uneven ground and it is the ultimate tool for panorama photographers who need to level their panorama systems.

Built-in Bubble Level.
Specifications:
Model: QL-I
Height: 53 mm / 2.08 inch
Ball diameter: 65mm /2.55inch
Base diameter: 48mm/1.88inch
Tripod Mount Thread Size: 3/8" female thread (bottom), 3/8" thread (attachment)
Camera Thread Size: 3/8" thread
Tilt Range: +/-15°
Load Capacity: 10kg/22 lbs
Weight: 228g/8.04oz
FLYWHEEL
The flywheel adds a damping effect to your slides, ensuring smooth acceleration/deceleration as opposed to jerky starts and stops. It achieves this through its centrifugal force while the slider belt is connected to it.
VERSATILE
Highly versatile The iFootage Shark slider can be deployed from the storage bag in only a few short moments and could save you precious seconds when needing to film.
WHAT YOU GET:
Materials: Carbon Fiber and anodised aluminium (SUS304)
Weight: 3.4kg
Tube diametre: 22mm
Max length: 790mm
Effective length: 640mm
Max load: 7kg
TECH SPEC:
Materials: Carbon Fiber and anodised aluminium (SUS304)
Weight: 3.4kg
Tube diametre: 22mm
Max length: 790mm
Effective length: 640mm
Max load: 7kg
PRODUCT FEATURES:
Lightweight, compact and portable
Modular design - extends up to 1800mm
Fast and easy tool less deployment
High quality engineering and materials
Belt and original flywheel combination ensures totally smooth camera movement
Suitable for all locations and weather conditions